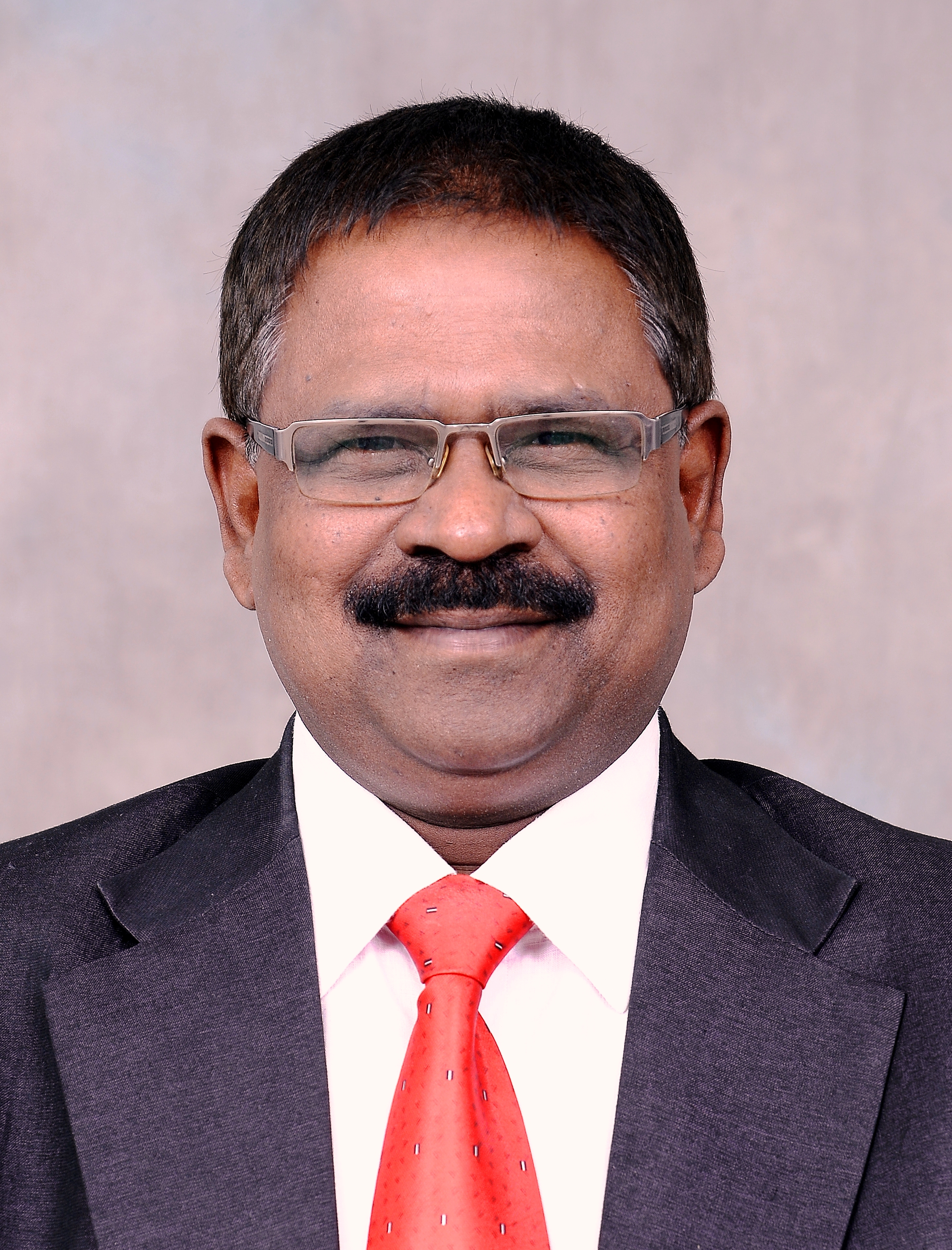 Dr. R. SAMSON RAVIDNRAN
EXECUTIVE DIRECTOR
Mahendra Educational Institutions
Salem and Namakkal
Email: ed@mahendra.org, samsonsalem@gmail.com
Dr. R. Samson Ravindran, the Executive Director of Mahendra Engineering Colleges, Namakkal and Salem Districts, is one of the most talented and a skillful administrator. He has persevered to impart education that stimulates and cherish the young minds of students, broaden their vision and enabling them with professional grooming to confront the outside world. He has graduated in Electrical and Electronics Engineering (B.E.,) from Anna University, Chennai at the degree level. Electronics and Control Engineering (M.S.,) at the Masters from Birla Institute of Technology and Science (BITS) Pilani and Business Administration at the Master Level (M.B.A) from the University of Madras. His unique style of administration has drawn applause from various Head quarters. He has been awarded Ph.D., for his Research work in the area of Solar Energy from synopsis a Solar Research Institute, France. His relentless pursuit of knowledge is exemplified in his endeavor as he had been awarded for his second Ph.D., in Bio-Engineering at Vinayaka Missions University. He is the recipient of many awards and prizes such as Three State Awards for " Best Project ", " Jewel of India " award five times as " Best ISTE Chairman Award " and Excellence in leadership award etc.,
He was the member of the Board of Studies and Examinations of Directorate of Technical Education, Govt of Tamilnadu for more than a decade and also the member of a number of professional bodies such as Institution of Engineers, Computer Society of India, Indian Society for Technical Education, Bio-Tech Research Society of India and etc.
He has visited countries like France, UK, Germany, United States of America, Canada, Switzerland, Singapore, Malaysia, China and Thailand to make study about higher Technical Education and Solar Power Projects. He has also presented many papers and Chaired on Solar Power Projects, Bio-imaging, and Telemedicine in various National and International Conferences and published many papers to his credit in the International and National Journals.
He served as the President of Tamil Nadu Science Form, Salem District and also as National Executive Council Member in Indian Society for Technical Education (ISTE), New Delhi.Now he is holding the position as Vice Chairman of ISTE, Tamil Nadu. He was the Chairman of Institute of Engineers India (IE (I) ), Salem local centre between 2009-2011.
EDUCATION QUALIFICATION
Doctor of Philosophy (Ph.D.,) in Bio- Imaging at Vinayaka Missions University, Salem, India
Doctor of Philosophy (Ph.D.,) in Solar Energy from International University, for his research work based on SYNOPSIS, France (2004).
Master of Science (M.S.,) in Electronics and Controls, from Birla Institute o Technology and Science (BITS) Pilani, Rajasthan,(1993-1995).
Master of Business Administration (MBA) from University of Madras (1995 -1998)
Bachelor of Engineering (Electrical and Electronics Engineering ) from College of Engineering, Madras, Anna University, Madras (1979-1984)
Pre-University Course (PUC) Heart College, Tirupattur, N.A.A. District, Madras University (1978 -1979)
WORK EXPERIENCE
From June 2013 to till date served as Executive Director, Mahendra Educational Institutions,
Salem and Namakkal districts, Mallasamudram, Namakkal Dt.
From March 2010 to june 2013 worked as Principal, Mahendra Engineering College (Autonomous), Mallasamudram, Namakkal Dt.
From 1991 to 2010 (20 years) working as Principal, CSI Polytechnic College, Salem-7.
From July 1987 to June 1991 as Head of Electronics and Communication Engineering, CSI Polytechnic College, Salem-7.
From May 1985 to June 1987 at CSI Polytechnic College, Salem-7 as Instructor in Department of Electronics and Communication Engineering.
From May 1984 to June 1985 worked as a maintenance Engineer (Electrical) at MASDA & Construction Company of UK/USA based at Madras
In the above mentioned period attended two short-time advanced courses in

Solar Energy
Bio-Medical Engineering

Solar Energy – Attended a course on Solar Energy under Alternative Energy / non- conventional energy department of "SYNOPSIS" a Solar Power research Institute in FRANCE. Also visited to know the systems in several technical Institute in WEST GERMANY.

Bio-Medical Engineering – Attended a short-time course on "Biomedical Engineering's Hospital Equipments maintenance" at WANLESS Hospital- a American aided hospital at MIRAJ SANGLI, Miraj, Maharashtra, India

From 1968 to 1989 worked as coordinator for the non- formal Education wing in CSI Polytechnic College-7 in (Rural Youths) which about 150 trainees are benefited every year. From 1989-1996 served as a coordinator in the Solar Cooker production Unit at CSI Polytechnic college, Salem-7. Making box type cookers and water heaters based on the designs from "SYNOPSIS OF FRANCE"
BOOKS PUBLISHED
Published two books on
Network Antenna and Propagation
Measurements & Instrumentation
Television Engineering.
Communication Engineering and
Communication Systems in the year 1987, 1989,1997 and 2004 respectively according to the Syllabus, for the Diploma in Electronics and Communication Engineering students, Directorate of Technical Education, Government of Tamilnadu, Chennai – 25.
MEMBERSHIPS:
Fellow of Institute of Engineers (India) with a title of charted Engineering, F.I.E & C.E (India)
Member of Indian Society of Technical Education
Sitting member of Board of studies and Examination, directrate of Technical Education, Government of Tamil Nadu, India
Member of computer Society of India
Member of Broadcasting Engineering Society (INDUS)
Member of Bio- tech Research Society of India
Fellow of United Writers Association of India and Member of American Research Board of Advisors
AWARDS:
Got Four awards for best projects guide from the Directorate of Technical Education, Chennai
Best Chapter Chairman Award consecutively for three years for the years 2003-04, 2004-05, 2005-06 from the Indian Society for Technical Education, New Delhi.
"Jewel of India" award.
"Rashtia Ratna" award by International Institutions and
Under his chairmanship the students Chapter consecutively bagged the "Best Chapter" award for three years as 2003-04, 2004-05 and 2005-06.
Life time achievement Award from UNA
Best Principal Award from IIEM, India.
PAPERS PUPLISHED:
Published more than 35 international and national referred journals
PAPERS PRESENTED
Attended research papers submitted and chaired for Technical Sessions in many " National and International " Conferences on Solar Energy and Bio- Imaging and presented research papers in the following areas
Solar Energy and its future in India
Solar Energy as a future in India
Non Conventional Energy – Role of Solar Energy
Technical Education in the new Millennium
Challenges towards Technical Education in the Engineering Trends
Telemedicine the imperative need.
Bio- Imaging the mammography – in 3D reconstruction
RESEARCH GUIDENCE (PhD)
7- Research Scholars Completed
3- Research Scholars under the Work