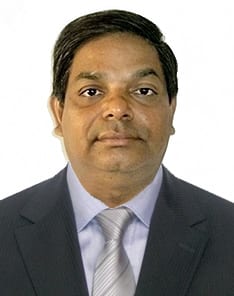 Dr. V. Aroulmoji

Director – R&D.
Dr. V. Aroulmoji serves as the Director of Research at the Mahendra Research Foundation. He is an experienced researcher whose field of interest is in Nuclear Magnetic Resonance (NMR) and Raman Spectroscopy.
Dr. Aroulmoji possesses in-depth knowledge through years of research in a diverse array of fields that include Chemical and Biological Sciences, Renewable Energy, Pharmaceutical Science, and Nanotechnology.
He earned a Doctoral Degree in Physics from the Pondicherry Central University and a D.Sc Degree from the University of Reims Champagne – Ardennes, France. He served as a Post-Doctoral Scientist, Senior Research Scientist, and Facility Manager at various reputed institutions in France, the UK, and Italy.
His research into optical technology was highly regarded in France and he was made the Vice President of the Protos Research Institute, Italy. He also held the prestigious position of Facility Manager at NMR Facility of Eurand SpA (Aptalis TM), Area Science Park, Italy for six years.
In his role as the Project Coordinator of ARCHES in Italy, Dr. Aroulmoji's research on nanotechnology, functional foods, and renewable energy proved invaluable. He was also appointed as an independent expert of the European Commission for the technical evaluation of emerging technologies in the photovoltaic sector.
Furthermore, his immense contributions led to the development of anticancer polymer-drug conjugates and nanostructure drug carriers.
He currently serves as the Director of Research and Development at Mahendra Institutions and as the Editor-in-Chief of the International Journal of Advanced Science and Engineering (IJASE). Dr. Aroulmoji also co-authored over 100 peer-reviewed research articles published in many national and international scientific journals.
Dr. Aroulmoji has been awarded a Junior and a Senior Research Fellowship from the Government of India and a Post-Doctoral Fellowship from France.